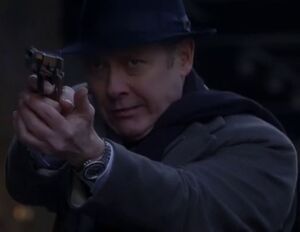 There is a recent still photo showing Raymond Reddington holding a gun with 2 hands. His wristwatch is exposed. The watch pictured in this photo is a good visual match for the Rolex GMT Master 16700. The bracelet is called the Jubilee bracelet. The 16700 came with 3 optional bracelets: Oyster 78360 and 78790 (Oysterlock starting 1989) and Jubilee 62510. This is consistent with the story's time line and Reddington's character for the following reasons.
Availability
Edit
These models were in production in the years before his disappearance in 1990.
Reddington's character
Edit
He has shown a consistent attachment to key persons and events from his past. His watch may be a keepsake from the times when his family was intact and he was a US Navy officer. In addition, his taste for the finer things would have influenced him to choose a premium watch, or desire one as a gift.
Military use
Edit
Many military pilots, astronauts, and commercial airline pilots wear the Rolex GMT. It was designed specifically for airline pilots and immediately caught on with the US military. While expensive, its price is within the reach of a Navy officer, perhaps more in reach in the 1980s than today.
Practicality
Edit
The GMT is designed to keep track of 3 time zones, which makes it useful for someone who travels the globe as Reddington does. It is sturdy and rugged, able to withstand considerable shock and vibration and continue functioning.
Another and better view of Reddington's watch. This picture shows clearly it is the "Pepsi" model, not the LN. At some point the watch was changed as it now sports an Oyster brand logo.
Characters
Edit
I see a lot of Rolex watches on characters' wrists. Now, I can understand an international criminal with a private jet and a vast organization affording a watch like a Rolex. A low level civil servant, no. My guess is Rolex made a deal with the producers to supply watches in return for product placement closeups.
It keeps track of 3 time zones, if you count UTC as 1. The bezel is zone 2. The hands are time zone 3.
Some say it has a emergency com on it, but this is speculation, as there is no space left in the watchcase to house such techniques. The Breitling Emergency has this kind of feature but in a much bolder case with additional screw on caps to reveal the needed antennas.
External Links
Edit
Community content is available under
CC-BY-SA
unless otherwise noted.